High-efficiency conductive carbon blacks for EMI shielding
The demand for sustainable solutions continues to grow, and with it the importance of metal substitutes and lightweight construction models in the electric vehicle market. As a result, manufacturer interest in technical compounds with high thermal and electrical conductivity is also rising. Nordmann partner Imerys Graphite & Carbon offers an ideal solution with its conductive carbon blacks from the ENSACO® product family.
Avoiding electromagnetic interference
Electromagnetic interference (EMI) can negatively impact and disrupt electronic systems and devices. A conductive barrier that effectively reflects and absorbs electromagnetic waves can attenuate EMI. With the rising demand for metal replacement solutions that enable lightweighting, corrosion resistance, greater freedom of design and lower costs, market demand for reliable polymer-based EMI shielding solutions is rising. ENSACO® conductive carbon blacks offer the combination of high electrical conductivity at low loading, effective electromagnetic signal attenuation and easy processing that manufacturers are looking for.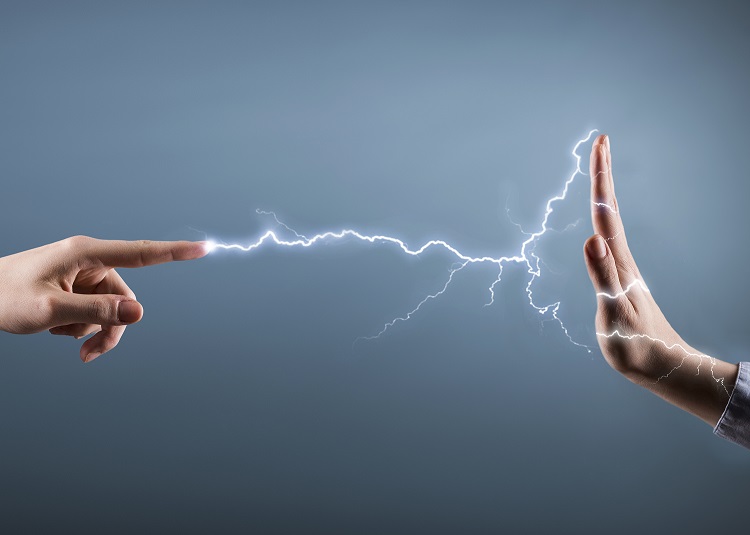 ENSACO® conductive carbon blacks are excellent for EMI shielding alone or in blends with other conductive additives in applications such as electronics, antenas and sensors. Thanks to their high graphiticity, they can also be used for thermal management in batteries, lighting, electronics and vehicle interiors, for example.
ENSACO® is a line of state-of-the-art conductive carbon blacks, ideal for demanding conductive applications involving all types of rubber – including fluoroelastomers and silicones. Some examples include profiles, seals, fuel hoses, drive belts, wire, cable components and accessories. Imerys' proprietary manufacturing process ensures the controlled production of exceptionally clean conductive carbon blacks (i.e. with minimal levels of metallic impurities, sulfur, ash and soluble substances). They are also low in moisture and able to meet the most stringent cleanliness requirements relating to PAH and BAP levels. Featuring low surface oxygen content the ENSACO® product family shows minimal inhibition effects on peroxide crosslinking. In addition, their extremely low levels of sulfur and metallic impurities makes them a great choice for Pt-cured silicone.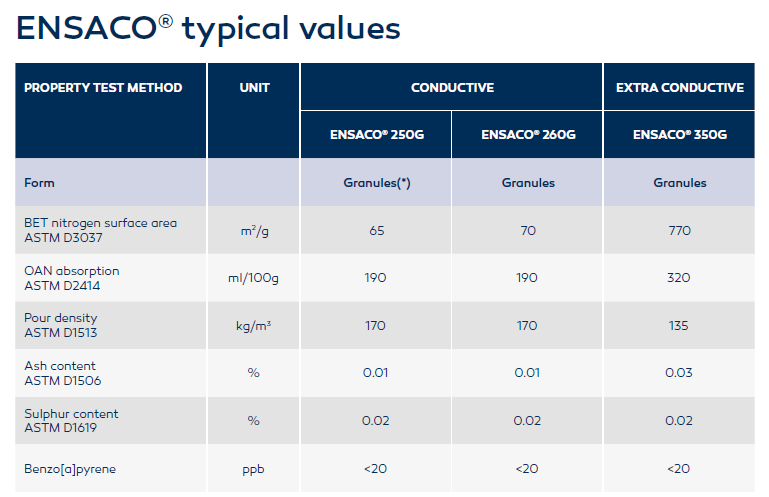 Key properties of ENSACO® conductive carbon blacks
ENSACO® 250G and 260G – unique combinations
ENSACO® 250G and 260G combine high purity, high structure and low surface area, which ensures low moisture absorption and easy dispersion. Having low surface area improves polymer wetting. The high structure of the material reduces contact forces between carbon black aggregates. This unique combination of properties allows for high conductivities to be achieved at low loading levels – a decisive advantage for the mechanical properties and flow characteristics of a compound as well as for achieving a smooth surface on finished parts. ENSACO® products provide easy dispersibility thanks to their "soft flake" granulation process. Lower energy input for dispersion, reduced viscosity increase, lower hardness and improved mechanical properties compared to standard carbon blacks can be achieved.
Due to its higher level of crystallinity, ENSACO® 260G offers better conductivity as well as higher resistance to shear and compression than ENSACO® 250G. ENSACO® 250G is an especially conductive carbon black that combines superior structure with high surface area, delivering high electrical conductivity at lower loading levels. This makes it an ideal option for applications that require low concentrations of conductive carbon black, e.g. conductive pipes or complex formulations.
Distributed in the Czech Republic and Germany.
For detailed product information please contact our experts: sales(at)nordmann.global