25 Apr 2022
Sustainable together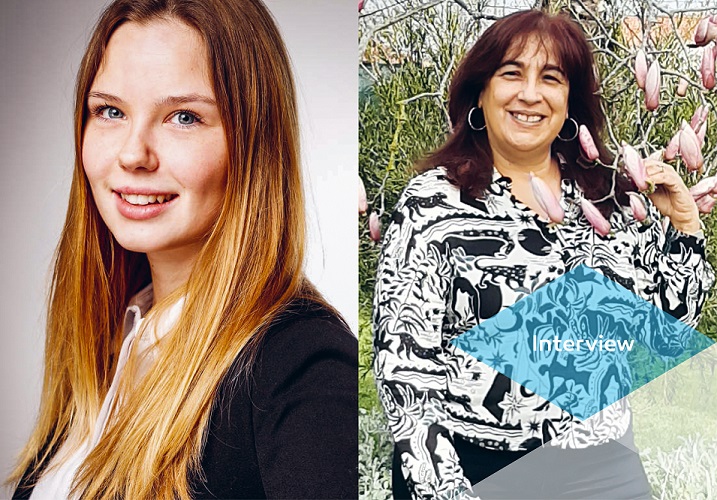 LEADING BY EXAMPLE
Jasmina Westphal sees riding her bike to work as a no-brainer. "In Hamburg, you don't really need a car; it's a luxury item that you don't have to spend money on when you live in the city center," says the 23-year-old who studies business administration and also works in sales at Nordmann. Recently, Westphal completed her traineeship as a wholesale and foreign trade specialist.
For a long time, the consequences of climate change felt far away to her – at least until catastrophic floods struck Germany's Ahr Valley last summer. "That was the first time I really saw how climate change was affecting my country, too," says Westphal.
For Westphal personally, acting in a climate-friendly way means not wasting food, separating her trash and using packaging-free personal care products. Westphal also thinks about sustainability in the professional world. As she sees it, "Companies have a big responsibility and should be driving sustainability." She even wrote a term paper on this during her vocational training. Her conclusion? "Nordmann sets a good example in many areas. In cosmetics, for example, the company distributes microplastic alternatives such as silicic acid, sugar or salt crystals – and those end up being sold to customers who manufacture shampoos, skin creams or toothpaste."
GREEN THOUGHTS
If Flávia Barata had one wish, it would be to go back to a time when our planet was still in good health. "A time when icebergs weren't melting away. One when summers were warm and winters were cold," says Flávia Barata, who has worked in quality assurance at Nordmann Portugal for almost 23 years. Part of her work is in energy management, and in recent years she has noticed a growing number of changes: heavy downpours outside the rainy season, forest fires, tornadoes and warm beach days in the middle of October. "We shouldn't normally see those kinds of things," Barata says.
Climate protection and sustainability are important to her. "At home, I have a small garden where I grow aromatic herbs, I ride my bike as often as possible and I try to avoid plastic." Sustainability also plays an important role in her professional surroundings. In addition to having faucet sensors, motion detectors for lighting, and a plan to start growing its own vegetables and herbs in a small garden on the company's premises for consumption in the canteen, Nordmann Portugal has been an energy producer itself since November 2021. On the roof of the company's 400-square-meter cold-storage facility, 193 solar cells are busy collecting enough energy to provide for fully self-sufficient and energy-efficient cooling even in the hot summer months. For Barata, this is an optimal solution: "Nordmann saves on electricity costs and contributes to climate protection at the same time." If it were up to her, a lot more people, politicians and corporations would get involved in sustainability. Flávia Barata says: "In order to preserve our planet, it's up to all of us. Every act counts, no matter how small."
Related news
On course for climate neutrality
25 Apr 2022
Verifiably sustainable: ISCC Plus certification
25 Apr 2022
Green network of the future
25 Apr 2022
Braving the gaps: sustainability in motion
25 Apr 2022
A matter of perspective
25 Apr 2022