25 May 2022
The world of silicone elastomers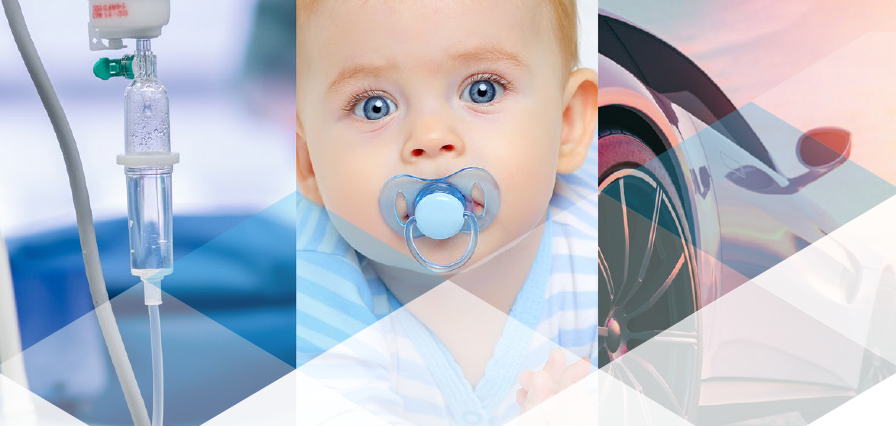 MOMENTIVE's silicone elastomers deliver proven advantages for rubber elastic products around the world. They score points for their excellent heat and cold resistance and for having minimal environmental impact, not requiring the large number of additives needed for comparable elastomers. Fields of application include healthcare, consumer goods, electronics and automotive industries – and because of its special electrical properties, silicone rubber is also used widely in the energy sector.
Available products
MOMENTIVE supplies a range of liquid silicone rubber (LSR) and high-consistency silicone rubber (HCR) products. The company's portfolio also features elastomers that can be customized to individual customer needs or specifications. There are also base silicones, topcoats and primers, in addition to special colored pastes.
Advantages include:
Excellent heat and cold resistance
Weather resistance
Special electrical properties
Oxygen permeability
Improving sensor technology
Fast crosslinking
Chemical resistance
High level of clarity and transparency
Adhesion properties
Regulatory compliance, including for medical devices
Wide range of applications
The world of liquid silicone rubber (Silopren LSR)
MOMENTIVE's Silopren LSR line is a diversified range of liquid silicone rubber. Each LSR is based on a two-component A+B system that crosslinks after mixing at elevated temperatures. This ensures excellent storage stability with long-lasting material shelf life and a stable crosslinking process. LSR is processed using injection molding with special metering units that allow over 64 cavities to be filled and complex geometries to be achieved. Having a low viscosity and the ability to cure rapidly makes for short injection times and also short cycle times, all while ensuring that burr formation and trimming steps can be avoided.
Color matching can be easily achieved using MOMENTIVE's LSR color pastes as a third component during injection molding (2% by weight).
Excellent properties:
Very fast residue-free platinum-catalyzed addition curing
Excellent material properties, thermally resistant from -50 °C up to 250 °C
Compatible with injection molding
Approved and certified according to several industry standards, specifications and norms
Versatility through:
Ready-to-apply form with a long shelf life
Easy color matching with LSR colored pastes
Self-adhesive grades that eliminate the need for primers in many cases
Self-lubricating grades for easy installation
Fluorinated grades featuring improved resistance to oils and lubricants
Shore hardness from Shore 5-90A (no plasticizers required)
LSR grades:
Silopren LSR 20X0 series: Standard grades (Shore 10-80A)
Silopren LSR 26X0 series: Standard grades, fast-curing (Shore 10-80A)
Silopren LSR 27XY series: Self-adhesive to thermoplastics (e.g. PBT, PC, PA, etc.)
Silopren LSR 3XYZ series: Self-lubricating
Silopren LSR 25X0 series: (Textile) coatings
Silopren LSR 40X0 series: Medical products / healthcare
Silopren LSR 46X0 series: Medical products / healthcare, fast-curing
Silopren LSR 7000 series: Ultra clear for optical applications
Related news
NORCOMP silicone and fluorosilicone compounds
25 May 2022
Butyl and halobutyl rubber
25 May 2022
High-efficiency conductive carbon blacks for EMI shielding
31 May 2022
Nordmann at the 2021 DKT / IRC
24 May 2022