21 Apr 2023
Organic-quality plastics? Naturally!
Sustainable business is an integral part of corporate culture for Nordmann partner TotalEnergies Corbion – so naturally, the sustainability of its raw materials is also taken very seriously.
TotalEnergies Corbion supplies customers with GMO-free PLA under the brand name Luminy® that can provide a 75% reduction in carbon footprint over most conventional fossil-based plastics. PLA bioplastics have a wide range of industrial applications that include fresh-food packaging, biowaste bags, consumer durables, toys, 3D printing and nonwovens. The popularity of this new product is currently fueling market growth of 15% per year.
Non-GMO, renewable raw materials such as sugar cane, corn and cassava are used to produce the company's PLA. The sugars from these plants are first fermented into lactic acid, which is then polymerized. One of the big drawbacks associated with most of the first-generation PLA bioplastics is that they did not hold up well at elevated temperatures, so nowadays the focus is on creating homopolymer chains from stereochemically pure monomers that crystallize quickly and offer good heat resistance.
PLAs are biodegradable, allowing them to serve as a food source for microorganisms and fungi in the right environment. Once decomposition is complete, only harmless natural substances such as water, CO2 and compost are left over. The biodegradation process happens particularly fast in industrial composting facilities, but PLA bioplastics can also be recycled mechanically and chemically as an alternative to composting.
Long-time Nordmann partner opens Europe's first PLA bioplastics plant
For 40 years now, Nordmann has maintained an active partnership with TotalEnergies. The company is actively shaping the energy transition through its strong focus on clean energy and commitment to building a sustainable circular economy. In a joint venture with Corbion, TotalEnergies is working to advance the development of bioplastics.
Back in 2018, TotalEnergies Corbion started up its first PLA plant in Rayong, Thailand. This success story is now being continued in Grandpuits, France, where a second plant is scheduled to start operations in 2024. With a yearly production capacity of 100,000 tons, it is set to make TotalEnergies Corbion the world's largest producer of PLA. The more than €500-million industrial investment will transform the Grandpuits site into an environmentally friendly refinery with PLA bioplastics as its backbone, along with biofuels and plastic waste recycling.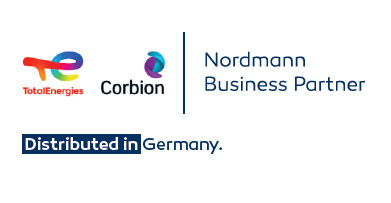 Related news
Nordmann at the K 2022
25 Aug 2022