25 Aug 2022
Nordmann at the K 2022
From October 19-26 in Düsseldorf, multinational chemical distributor Nordmann will be exhibiting together with its partners Honeywell, Kraton, Marfran and PMC at the K – the world's leading trade fair for plastics and rubber.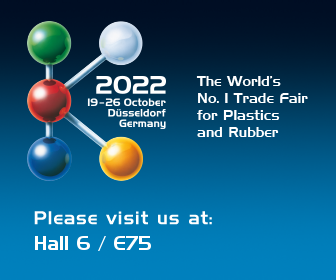 The fair is celebrating its 70th anniversary this year, so congratulations are in order! Nordmann has been a regular exhibitor at the K for more than 40 years now and is looking forward to the face-to-face discussions with business partners and exchange of ideas with other industry experts at this important industry meet-up again after the long pandemic break. In addition to the company's co-exhibitors, many Nordmann colleagues from around the world will be ready to welcome visitors on-site in Düsseldorf.
For Nordmann, the focus at this year's K will be products and raw materials that meet today's high expectations for the use and sustainability of plastics. "I consider the circular economy to be one of the most important fields now, and for the future as well – and one example is that we should not allow plastic products to not be recycled after use. Plastics are valuable and recyclable materials, and as such should remain in the economy insofar as possible. That's a big reason why we team up with our suppliers to distribute raw materials that enable recyclates to be used in plastic compounds for new applications, and why we also carry a wide range of internationally-sourced products made from recycled materials. Our trade show motto 'Sustainability distributed around the world' reflects this approach," says Jost E. Laumeyer, Global Sales Director Plastics at Nordmann.
Dr. Gerd Bergmann, Managing Director at Nordmann, adds: "As a multinational distribution company, we play a central role in supply chains and can make a significant contribution toward increasing transparency and sustainability. We also view ourselves as a co-designer, networker and knowledge provider, just as we know that sustainable solutions are important competitive advantages in today's market. If we want to remain attractive as a business partner and as an employer, approaching the issue of sustainability with a sense of social and environmental responsibility is a must – without also losing sight of profitability."
Nordmann is involved in sustainability initiatives such as Together for Sustainability and Responsible Care, and the distribution company is also ISO-50001 certified. Nordmann has added "sustainable" to its corporate strategy and has taken action on it by creating the resources to expand its HSEQ (Health, Safety, Environment, Quality) department to cover sustainability issues. Nordmann's commitments are independently verified, and the company is now working towards ECOVADIS verification for the entire Group – and so far that's been a success, with Nordmann France achieving platinum status in April this year.
Another major focus of the K 2022 will be innovation, and Nordmann's co-exhibitors are planning to present a number of exciting new products. "To name just a few, our partner Honeywell's range now includes NduroMatt™, a micronized matting agent for paints and coatings which has proven to be a pioneering product for use in plastic coatings. Kraton is supplying an efficient and fully recyclable additive for difficult-to-recycle engineering polymers – CirKular+™ – and the company's representatives will be happy to explain to our K visitors all the advantages this new product can offer. Marfran will also be there to showcase its sustainability guidelines, based on a four-pillar concept. Finally, our partner for organometallic catalysts and stabilizers – PMC – will be showing visitors the alternative EU-compliant products that it supplies for organotin compounds," explains Jost E. Laumeyer.
Dr. Gerd Bergmann continues: "In addition to the latest innovations from our partners, our representatives will also be there to promote our own Nordmann brands. Our NORANTOX® line, for example, is a range of antioxidants and UV stabilizers. These are among the most frequently used additives in the plastics industry, making sure that modern plastics applications perform optimally even under difficult environmental conditions. We also have a comprehensive range of non-halogenated flame retardants that we market under the brand name NORD-MIN® Flame Retardant Master Batch (FRMB). We supply NORD-MIN® CPE135A as well – an impact modifier for various engineering PVC applications."
Visitors to the K will find Nordmann from October 19-26 at Booth 6E75 in Hall 6.
More information about the show and Nordmann's co-exhibitors can be found here:
https://www.nordmann.global/en/news-events/events-trade-fairs/Nordmann-at-K-2022