10 Oct 2022
JLS: Halogen-free flame retardants for a wide variety of polymers
Hangzhou JLS Flame Retardants Chemical Co., Ltd. was founded in China in 2001 and is a pioneer in the research, development and manufacture of halogen-free flame retardants. The company maintains four manufacturing sites across three locations – Hangzhou, Jiangshan and Shengzhou – with a total annual production capacity of 58,000 metric tons.
Halogen-free flame retardants have been used for many years to support a wide variety of polymers such as TPO, TPU, TPE, PE, LFT, CFRT, PP, PP/GF, PA and PA/GF. They satisfy several important standards for flame retardants, including UL 94 V-0/5VA, GWIT 850, GWFI960, EN45545, PREN50620 and more.
JLS production facilities
In Hangzhou, JLS operates a total of twelve production lines for HFFR and masterbatches that are able to provide dust-free metering and processing. The plant produces around 20,000 metric tons of melamine cyanurate per year.
One of the main applications for melamine cyanurate is unreinforced polyamide. Halogen-free polyamide finished with melamine cyanurate has high impact strength at low temperatures and stable flame retardant properties.
Jiangshan is home to the world's largest ammonium polyphosphate production plant. Its production capacity is 20,000 metric tons per year and it is a clean and environmentally friendly facility.
Nordmann distributes ammonium polyphosphate as an own-brand product under the name NORD-MIN® JLS-APP. The flame retardant is also used in the textile industry, where it is utilized to meet fire protection standards such as BS5852 and FMVSS302. It is also an environmentally friendly material that enables TVOC-free solutions. Additionally, it is suitable for use in polyurethanes and acrylic compounds.
Intumescent flame retardants belonging to the NORD-MIN® JLS-PNP and NORD-MIN® JLS-PNA 350 series are produced in Shengzhou.
Since the beginning of 2022, production capacity for both product lines has been expanding to keep up with rising demand as a result of new areas of application. The new annual target is 16,000 metric tons. Strong focus is being put on achieving even more efficiency in the manufacturing process, as well as adhering to new environmental standards.
What's more: JLS flame retardants can be found in many well-known structures around the world, from the Eiffel Tower to the Hong Kong-Zhuhai-Macao bridge and the 2014 World Cup stadium in Brazil. Being a leader in technology has also allowed the long-standing Nordmann partner to successfully supply several Fortune Global 500 companies.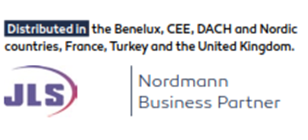 Related news
Congratulations on 70 years of the K!
4 Oct 2022
State-of-the-art
4 Oct 2022
Flame protection and more - Interview with Emma Nordenberg
8 Sep 2022
ADINS® flame retardants for halogenated and halogen-free systems
5 Oct 2022