8 Mar 2023
Inspiring future generations: a talk with Mollie Williams on International Women's Day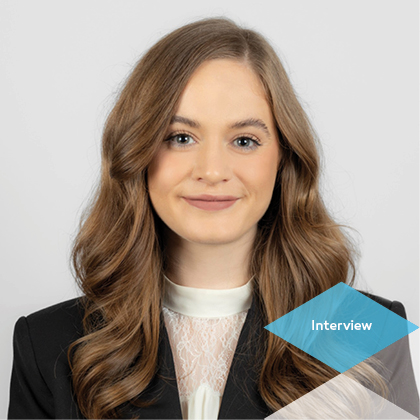 Alongside her work at Nordmann, Mollie is also one of the youngest members of the Chemical Business Association's Future Council. In her interview Mollie talks passionately about how encouraging future talent into the chemical world is an aspiration of hers.
Please tell us about your path to Nordmann.
I have worked in this industry for almost five years. While completing my Chemistry Degree and Masters, I realised that I would want a role outside of the laboratory, so I began looking for something that excited me. My first job was as an Account Manager for a solvent distributor, I learnt quickly in the fast paced and dynamic environment. I joined Nordmann U.K in 2021, where I found that the opportunities to grow and develop as a Technical Sales Manager are in abundance. The workplace has changed significantly since I started out with more and more companies looking to attract younger, ambitious individuals.
What is the Future Council?
15 of us make up the Future Council. We are like-minded enthusiasts with different backgrounds in our industry, including; sales, logistics, sustainability and regulatory. Our vision is simple; improve the perception of the chemical supply chain while connecting and inspiring young talent. We draw on everyone's expertise and experience to reach out via vlogs, networking events and social media, to inspire and engage the next generation. Recently, we attended Chem UK 2022 showcasing the supply chain's role and insights into the responsibilities of many manufacturers and suppliers. Our vlog can be found on the Chemical Business Association's YouTube page.
Why did you join the Future Council?
As a younger woman in the chemical industry, encouraging young talent, especially females, to dive into the chemical world has always been a passion of mine. So, when I was asked to join the Chemical Business Association's Future Council, I jumped at the opportunity. Being part of the council allows me to make a real difference, drawing on my own experiences from the beginning of my career, to where I am now.
What impact will the Future Council have?
The Future Council is about to enter its second year. We have many ideas of how we can continue to expand and raise the profile of this exciting industry. We will be attending a wide range of trade shows throughout 2023 to provide insights into how diverse each sector is, while fighting the negative connotations often associated with chemicals and our line of work. The council provides a platform for outreach to schools and universities, as well as connecting with those already working within the chemical industry who want to grow and develop.
Why is this all important?
The chemical industry is one that is well established, with a wealth of experienced members. Acting now to bring together different generations allows the rich knowledge to be shared, encouraging innovation as we look to an ever changing and increasingly challenging world. Nordmann is a leading international chemical distributor with an expansive and diverse portfolio. Within the group we have experts in all fields and being part of the initiative to attract younger talent shows that Nordmann is committed to the future of a sustainable and innovative chemical industry.
Nordmann is committed to building a workplace where women can thrive. We have introduced greater flexibility in our working hours and welcome remote working by employees. We are also a diverse company, with more than 500 employees located across 23 countries. We are listening to what our people need, in each culture, on each continent. Together we are one.
Visit the IWD web page to find out more about International Women's Day 2023. This year the theme is embracing equity.